Featured Product
The Sausage Making Bible: Great Sausage Recipes and Meat Curing by Rytek Kutas
For over 30 years this book has been the most comprehensive guide to sausage making and meat processing on the market. Now in its newly updated 4th edition, Rytek Kuta's original tex has been supplemented to include over ten new recipes and fresh up-to-date information.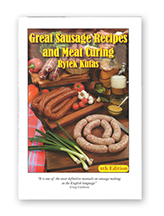 Perfect for both novice and advanced sausage makers, Rytek guides you through every step of the process, from grinding, curing and seasoning to stuffing, smoking and drying. Explained like only a fellow sausage maker could, Great Sausage Recipes and Meat Curing takes the mystery out of a centuries-old tradition.
Includes:
| | |
| --- | --- |
| *Curing Meat | *Specialty Loaves |
| *Smoking Meat | *Game and Specialty Meats |
| *Natural and Synthetic Casings | *Dry Cured Sausage |
| *Permissible Ingredients | *Fish and Seafood |
| *Fresh Sausage | *Canning |
| Smoked and Cooked Sausage | *Opening a Sausage Kitchen |
With over a million satisfied readers, Great Sausage Recipes and Meat Curing can be found in kitchens around the world!